Driver License & ID Cards
Ohio's New Driver License and Identification Card
The federal government will no longer consider standard driver licenses and identification cards as sufficient forms of identification for air travel. TSA (Transportation Security Administration) will require a federally-compliant driver license, identification card, or other acceptable form of identification such as a U.S. passport or military ID to fly within the U.S.
Ohio's Real ID
Ohio driver licenses and identification (ID) cards issued prior to July 2, 2018, will not be accepted by the Transportation Safety Administration (TSA) after October 1, 2021. Consider renewing early if you want to have a driver license or identification card that is federally compliant.
DHS Extends REAL ID Full Enforcement Deadline
Please note, the United States Department of Homeland Security has extended the REAL ID full enforcement deadline to May 7, 2025.
Delivered by U.S. Mail
You will receive your new driver license or ID card by mail. Printing cards in a high-security environment reduces the potential for fraud and identity theft.
You will receive your new driver license or identification card in the mail.
Your new card will arrive in a plain, white envelope.
If you have not received your new card after 28 days, contact us through our website or call 1-844-OHIO-BMV (1-844-644-6268) to check the status of your card.
To monitor and track your mail, the U.S. Postal Service offers a free service called Informed Delivery. To learn more or to sign up for the service, please visit https://informeddelivery.usps.com.
Interim Identification
You will receive an Ohio Interim Identification form issued by the deputy registrar location to use until your new card arrives in the mail. Law enforcement will be able to verify the form.
You must carry the interim driver license or identification form until you receive your new card in the mail.
Your Ohio Interim Identification form will expire after 60 days.
If you have applied for a driver license or temporary instruction permit, your Ohio Interim Identification form allows you to operate motor vehicles except for vehicles that require a commercial driver license (CDL) to operate.
An Ohio Interim Identification form is not valid as a stand-alone document when applying for a CDL or temporary CDL instruction permit.
An Ohio Interim Identification form is only valid when accompanied by an unexpired Ohio driver license issued to the person identified on the form.
An Ohio Interim Identification form only serves as confirmation that an application is pending. It is not a form of identification.
WARNING: The production, distribution, or possession of a forged identification card is prohibited pursuant to Ohio Revised Code 2913.31.
Compliant vs. Standard Driver Licenses and ID Cards
Customers can choose between a Compliant DL-ID and a Standard DL-ID. Choose the card that works best for you:
Compliant Card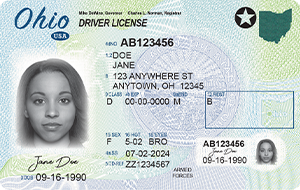 Meets national travel security requirements. A federally-compliant form of identification will be required to fly commercially or to access federal facilities or military bases.
A Compliant Card requires more identity documents than a Standard Card. You must provide documents to prove the following:
full legal name
date of birth
Social Security number
proof of Ohio residency
proof of legal presence
Standard Card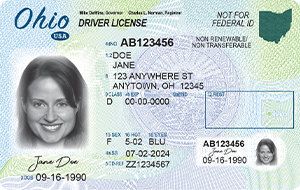 Does not meet national travel security requirements. A Standard Card will need to be used in conjunction with a passport or other acceptable documents approved by the Transportation Security Administration (TSA) in order to fly commercially or to access a federal facility or military base. Please see www.tsa.gov/travel/security-screening/identification for more information.
A Standard Card does not require additional identity documents, unless the DL-ID is being issued for the first time.
Both Compliant and Standard cards allow you to prove your identity
for tasks such as buying alcohol, obtaining social services, or registering to vote. Only a driver license can authorize the operation of a motor vehicle.
Go to our
Acceptable Documents
page for a full list of identity documents and links to use our interactive process to assist you with what to bring to a deputy registrar agency.
Frequently Asked Questions
Contact Information
Do you have questions?
Chat Mon - Fri 8 a.m. - 5 p.m.
or call us (844) 644-6268